Carpentry in Palmetto, Georgia
Valen Properties, LLC has been enhancing Palmetto Georgia homes with the classic beauty of quality carpentry work since 2014. Adding custom woodwork anywhere in your Palmetto home is an investment that will pay off almost immediately.
Adding Palmetto custom interior trim work to your home can make a big impact. Functional woodworking, like Palmetto baseboards or Palmetto window frames, adds a subtle yet imposing presence when they are custom built and installed by Valen Properties, LLC.
Adding decorative woodworking details, like Palmetto wainscoting or Palmetto ceiling panels adds class and visual impact to any room in your Palmetto home.
Trusted Palmetto Carpenter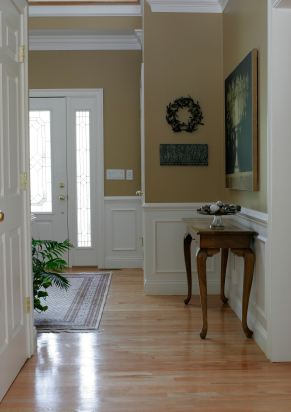 Valen Properties, LLC has extensive experience with adding beautiful wood accents to Palmetto homes. We install wainscoting, baseboards and trim, interior doors and much more. If you want to update the look of your house, adding wainscoting or chair rail adds instant elegance. Call (678) 723-6493 to speak with our experienced Palmetto carpenters.
Quality Palmetto Carpenter
Valen Properties, LLC's custom woodworking will add that touch of elegance you've envisioned. Valen Properties, LLC's experienced Palmetto carpenters use quality hardwood for all finish carpentry projects, such as cabinets, shelving, wood trim or wainscoting. We will stain or paint all woodwork to your specifications.
Skilled Carpentry in Palmetto
Valen Properties, LLC will take care to protect all of your home's surfaces during construction and installation. We leave your home clean and clear of all project waste. Whether you're looking to increase your functional space, add storage capacity or decorative woodworking touches to your home, Valen Properties, LLC will skillfully create products that will enhance the function and beauty your home.
---
Call for FREE Carpentry Quote
---
WHAT CUSTOMERS ARE SAYING:
5★★★★★ - "Everything turnaround as I expected, Valen properties are the best flooring & painting service, providers. They have a team of professionals who deliver what you require. I understand that a problem arises during the process, but their quick assistance makes the process easy. Big thanks to Felipe Valenzuela for their 100% satisfactory services!"

Devid D., Flooring in Mableton, GA

2019-11-12

5★★★★★ - "I was thinking to reinstall my house's cabinets, but the issue was the basic foundation was very old; therefore, no one was ready to take this project. Valen-properties have a potential team who took this project and make me aware of the relevant risks as well. Felipe was so kind that he suggested me some remodeling amendments for my house with a proper investigation. I really appreciate the team, and I am very happy with the finished work."

Jeremy R., Cabinet Installation in Kennesaw, GA

2019-10-11

5★★★★★ - "I came across Valen-properties recently for the Kitchen remodeling on my wife's demand and genuinely speaking it was a wise decision taken by her! They give us a luxurious kitchen. I really thank Felipe and the team; I will recommend them to everyone. And Felipe catch you soon for another project!"

Emma R., Kitchen Remodeling in Douglasville, GA

2019-10-11

5★★★★★ - "Felipe installed my floor and painted my home. He is very professional and very fair with pricing. I am very pleased with his work."

Yuderca M., Flooring in Smyrna, GA

2019-10-11

5★★★★★ - "Woooww. Very surprised how busy you guys were and managed to come o my house and did a great job in my basement. Thank you Mr. Felipe. Thank you for sending such great employees to work on my property. They were very professional!! Thumbs up!!"

Laura G., Basement Finishing in Sandy Springs, GA

2019-10-11

5★★★★★ - "Mr. Valenzuela thank you very much for your work. I feel 100% satisfied with my new paint job at my house. I will be contacting you soon to do the guest room and bath's flooring."

Guillermo R., Painting in Marietta, GA

2019-10-11

5★★★★★ - "My kitchen was redone, I love the work they did, it's the best in Atlanta."

Jazleen Bella, Kitchen Remodeling in Atlanta, GA

2019-09-16

5★★★★★ - "Excellent service! Very satisfied with the work. Mr. Valenzuela remoled my bathroom and he did an amazing job. He also fixed a leak in my roof and it looks brand new. The prices were fair and he is very professional."

Bayblade, Bathroom Remodeling in Lithia Springs, GA

2019-09-16

5★★★★★ - "Nice experience! Would recommend to anyone!! Got my bathroom re-done with ceramic tile and will do business again! I need my deck re-done as well!! Cant wait!!!🤗"

Adonis Mencia, Bathroom Remodeling in Lithia Springs, GA

2019-09-16

5★★★★★ - "We just had our fence, back deck, and front porch power washed and repainted and stained. There were also some board repairs and minor touch-ups we asked them to do to the front porch. Felipe was very responsive and attentive. He frequently asked for feedback throughout the project and reminded us to ask for or point out things we wanted done to ensure we were happy. My only recommendation to others is to do your homework on researching the materials cost. The estimate he gave us for the paint, stain, and a couple boards after coming out to view the property was $350 but it ended up costing us about $700! That should've been something we could've researched prior, but we thought with his experience on these types of projects his estimate would've been more reliable. But that's also on us as well. Other than that, his crew was friendly and professional. They even moved our patio furniture out, and put it back. Just be sure to communicate well and often. Ask for what you want, and they'll do it to ensure you're happy"

Christina Rios, Deck Building & Repairs in Lithia Springs, GA

2019-07-13
---
Call for FREE Carpentry Quote
---